JOIN US SUNDAYS!

10:00am Live and Broadcast Worship Service at 3690 Cherry Creek S Drive
To listen to a sermon, simply click the Arrow (Play button) in the video links in the individual posts below. If you'd prefer watching via our YouTube channel, please click here.
ABOUT US
Central's logo tells a story about who we are
The strong red C, a reference to the triple-C alliteration of Central Christian Church, is instantly recognizable as connected to the state flag of Colorado. Central is the eighth oldest church in the territory, founded in 1873 before Colorado became a state. What's more, the C also represents Central's theological priority on being an open circle of welcome, highlighting our long-held emphasis on inclusion and diversity of opinion.
The cross in the center of the open circle recognizes that Jesus Christ is central to our faith and witness: indeed, the watchword of our movement as Disciples is Christ Alone. By placing the cross in the center of the image we highlight that it is the cross in fact inviting people into the open circle of our fellowship. In addition, the cross in our logo is a stylized version of the St. Andrew's Cross that dominates the chalice logo of the Christian Church (Disciples of Christ) in reference to the Scots Presbyterian heritage of our movement.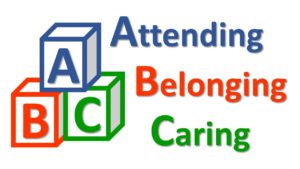 We encourage members to commit to practicing the ABC's as outward expressions of the faith:
Attending

Belonging

Caring
We invite you to explore more about the meaning of these ABC's at Central by visiting the links provided.
Worship Times

Central Opportunities – Get Engaged

Sunday
9:00am Choir Rehearsal and Fellowship
10:00am Sunday Worship at Central In-Person and on Facebook Live
11:00am Sunday School At Central

Tuesday
11:00am Revelations Bible Study
12:00pm Lunch with the Pastor
Wednesday
2:00pm Bible Study Live
Thursday
9:00am Prayer on ZOOM

Friday
7:00pm Ladies Night on ZOOM



ZOOM
Join on computer screen, or call on telephone to participate.
Go to https://zoom.us/j/3037441015

or Call +1 301 715 8592 then enter Meeting ID: 303 744 1015
Please Sign up to Volunteer on Sundays as we need help to run the Morning Sunday Service.
For electronic giving, Central Christian Church uses Givelify, which has secure payment processing & encryption.
How to get started:
3. Search for Central Christian Church (the one at 3690 E. Cherry Creek South Dr, Denver CO 80209) and select it. If you set it as your place of worship (click the heart), it will be easy to return to it in the future.
4. Choose the giving category, such as:
5. Enter the amount and complete the transaction. Please consider adding about 2 – 2.5% to the giving amount to cover the Church's cost.
6. If desired, set up the donation to be a recurring one and never forget your tithe again!
A message from Canaan Harris, our Senior Pastor
"We are not all in the same boat"
They say we're all in the same boat. Yet the fact is, while there is no doubt that we are all in the same storm, clearly we are not all in the same boat.
For instance, for some quarantine is a desperate family and financial crisis whereas for others it's a more along the lines of a major inconvenience. Likewise, some who live alone face terrible loneliness while others who live in close quarters with family might wish they had more time to themselves.
However, perhaps the biggest difference I see in how people are surviving this particular storm is whether or not they are involved in a community like church. Because the church is a boat built to float upon the storms of life.
Think of Noah's ark: a tremendous boat built to keep the chosen people of God safe above the floodwaters while the rest of the world was destroyed. (see Genesis 7-8). Or think of Jesus in the boat with his disciples: of how "he rebuked the wind and said to the sea, 'Peace! Be still!'" (Mark 4:41).
For in the same way, the church is like a boat: the vessel of salvation. And what's more, these scriptures are not just stories from the past, but a promise that God will continue to protect us from the storm, and a reminder that Jesus is still in the boat with us today.
For the good news is that just because we are isolated doesn't mean we have to be alone. Our church is doing all we can to try and keep people connected online and those staying connected in the way share how it makes all the difference to have this kind of encouragement and support.
"It helps me to know I'm not doing this by myself," shares one member, a man in his 80's. Or in other words – and despite the differences in how we may be experiencing this season – it feels like we're all in the same boat.
So we thank God for the technology that allows us to connect across the miles, even as we trust that God will bring us back together again one day.
Also please reach out to anyone who might not be connecting with us online, and don't hesitate to let us know if you need any help.
In Christ, Canaan