ABOUT US
Central's logo tells a story about who we are
The strong red C, a reference to the triple-C alliteration of Central Christian Church, is instantly recognizable as connected to the state flag of Colorado. Central is the eighth oldest church in the territory, founded in 1873 before Colorado became a state. What's more, the C also represents Central's theological priority on being an open circle of welcome, highlighting our long-held emphasis on inclusion and diversity of opinion.
The cross in the center of the open circle recognizes that Jesus Christ is central to our faith and witness: indeed, the watchword of our movement as Disciples is Christ Alone. By placing the cross in the center of the image we highlight that it is the cross in fact inviting people into the open circle of our fellowship. In addition, the cross in our logo is a stylized version of the St. Andrew's Cross that dominates the chalice logo of the Christian Church (Disciples of Christ) in reference to the Scots Presbyterian heritage of our movement.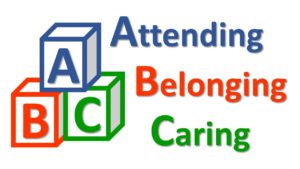 We encourage members to commit to practicing the ABC's as outward expressions of the faith:
Attending

Belonging

Caring
We invite you to explore more about the meaning of these ABC's at Central by visiting the links provided.